Fast, Friendly Pest & Termite Service since
1968
Save $50 Off Pest Control Service or $100 Off Termite Control.
What kind of pest problem are you having? Select all that apply.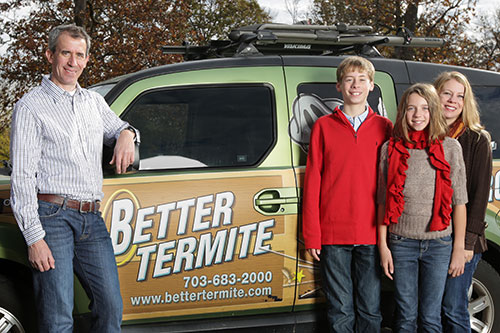 Better Termite is proud to be a family-owned business.
We have serviced more than one million homes since our inception in 1968. We're thrilled to say the management has never changed hands.
Better Termite offers a wide array of services to residential homeowners, builders and commercial construction companies. We are also pleased to have a number of green alternatives to satisfy our focus on being kind to the environment.
Northern Virginia Pest & Termite Control Services from Better Termite & Pest Control
Better Termite & Pest Control is a close-knit, family-owned business dedicated to protecting our customers' homes and properties from insects and the damage they cause since 1968. More than that, however, the focus of Better Termite is devoted to making our company the best it can be in terms of satisfying the needs of our friends and neighbors. We are not distracted nor bound by corporate mandates. We're flexible and responsive to your pest control needs.
Pest Control in Alexandria, Virginia & Surrounding Areas
*New customers only. Mention promo code BETTER50 to receive discount. Offers cannot be combined
Looking for Pest Control Solutions?
Expert Service From Trained Professionals
Pest Services
At Better Termite & Pest Control, our mission is to prevent and eliminate nuisance pests in your home. Some of these pests.
Termite Services
You may wonder how you can tell if your home has been infested by termites. It is easy to mistake termites for other insects, such as ants.
Rodent Control
Everyone needs a good night's sleep at the end of a long day. Make sure that bed bugs don't get in the way!
Mosquito Services
Mosquitoes are insects belonging to the order Diptera. Mosquitos have two wings, but unlike other flies,.
Limit of one coupon per household
Not valid with any other offer.
New Customer Only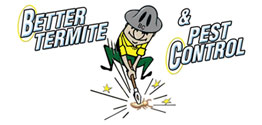 Limit of one coupon per household
Not valid with any other offer.
New Customer Only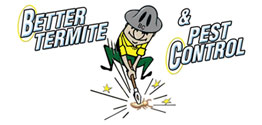 Take Advantage of our online specials below:
Here at Better Termite we take your financial needs seriously. We're always coming up with new ways to help you save and pledge to always make sure that our service provides outstanding value for money.
FREE Callbacks For Your Peace of Mind
Our job isn't done until you're happy. It's a simple philosophy but one that's let us become one of the most trusted names in North Carolina's pest control. So if pests return between your scheduled service, we'll come back at no extra cost to you.
ADDRESS
Better Termite & Pest Control
2647 Duke St Alexandria,
VA 22314-4508.
Phone: (571)-462-6391 or
(703) 822-5582
HOURS
M-F: 8:00 AM-5:00 PM
SAT: Closed
SUN: Closed
Read What Our Clients Are Saying
Get Started Today! Call us at 703-683-2000